Project6 Launches Drupal Website for UCSF Global Health Sciences
After extensive strategy and web design and development work in 2011, San Francisco Bay Area branding and web design company, Project6 Design, is proud to announce the launch of a new website for the Global Health Sciences division of UCSF.

As an organization, UCSF Global Health Sciences (GHS) is dedicated to improving health and reducing the burden of disease in the world's most vulnerable populations. It integrates UCSF expertise in health, social, and biological sciences, and focuses that expertise on pressing issues in global health. The new website for GHS highlights their vision and partnerships throughout the world. The user interface and design for the project focused on creating a better way to communicate GHS brand attributes and tell the story of how they make an impact, in the San Francisco Bay Area and beyond.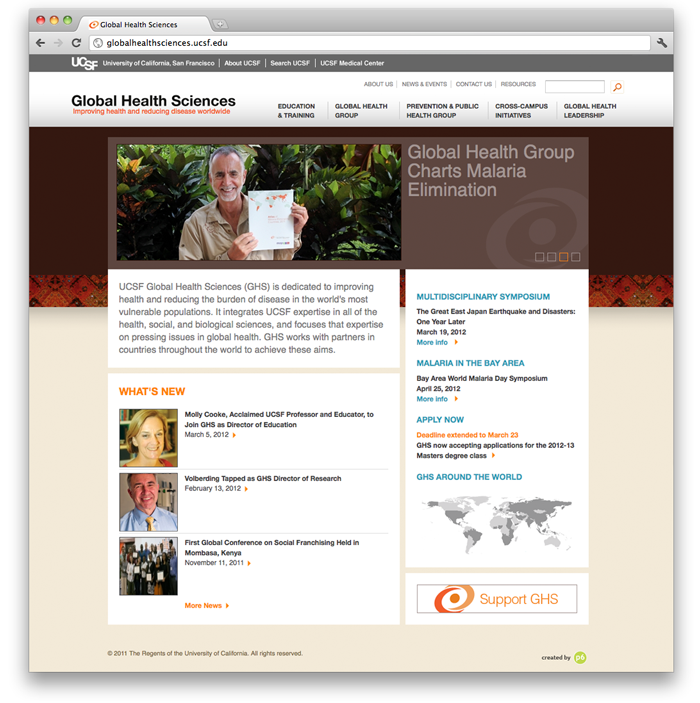 The site was build using the Drupal content management system (CMS). Integrating a CMS system for the website was an important aspect of the project (and is a core component of the vast majority of Project6 Design's web development work) as it allows the GHS team to easily update content and keep the website fresh and relevant. Drupal is the world's most widely-supported open source CMS and is used by the White House and many other high-profile organizations to manage website content.
"We are really excited to see another website for USCF go live. The Global Health Sciences team was great to work with and we are proud to be associated with the incredible work they do." said Esten Sesto, President and Founder of Project6 Design. "Our relationship with UCSF is long-standing and very important to us as a branding and design firm. Being able to work on so many projects with them over the years has given us a true understanding of the audience, UCSF brand best practices, and the common tools they have come to rely on to maintain their web properties."