Project6 Design Wins W³ and Davey Awards for Blanc & Otus Web Site
Graphic design firm honored with multiple awards for communications consultancy's web site refresh.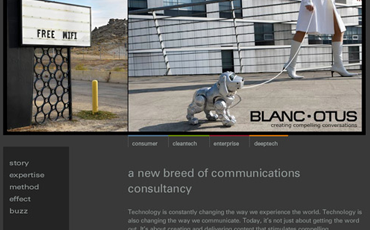 The International Academy of the Visual Arts (IAVA), which sponsors both the W³ Awards and the Davey Awards, is an invitation-only organization consisting of top-tier media, advertising, and marketing professionals from the world's leading organizations and firms.
The W³ Awards honor creative excellence on the Web, and recognize the creative and marketing professionals behind award-winning Web sites, Web video and online marketing programs.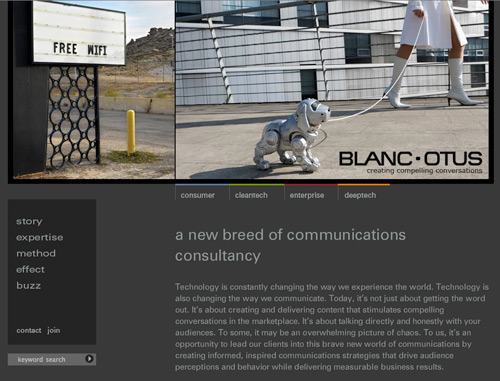 The Davey Awards honors the "Davids" of creativity — the smaller agencies, companies, or organizations with annual billings or revenues below certain levels. Each year, the Davey Awards honor winners who derive their strength from big ideas, rather than big budgets.
In 2008, Project6 commenced a job modernizing the Blanc & Otus Web site, aligning the look and feel of the Web site with Blanc & Otus' broad portfolio of strategic communications services. Project6 designed the Web site to reflect the diverse expertise of the agency – which boasts thriving practices in enterprise, clean tech, consumer and deep tech public relations – along with the rich history and unique character of Blanc & Otus.
A key feature highlighted on the Blanc & Otus Web site is the social media newsroom. The page showcases Blanc & Otus' social media properties, including a live Twitter stream, a feed to a Google Calendar the agency updates with local PR and Web 2.0 events, featured upcoming client and agency events, YouTube videos and links to Blanc & Otus' presences on Facebook and LinkedIn.
The Web site is built with the Drupal content management system (CMS), the most widely supported open-source CMS available. Drupal is used by the White House and several other high-profile organizations. The CMS allows Blanc & Otus to add, edit or delete Web site content quickly and easily.
"Previously, the design of our Web site did not reflect our agency's expertise and culture," said Anna Leonard, chief operating officer, Blanc & Otus. "We chose Project6 to redesign the site because their creative, yet clean aesthetic complements our distinctive brand, resulting in our award-winning Web site."
"Our team is honored to receive these two awards from the IAVA," said Esten Sesto, president, Project6. "By partnering with Blanc & Otus, we were able to transform the spirit and creativity of the agency into a sleek and smart package. We enjoy working with companies like Blanc & Otus that allow us to design beyond the ordinary and showcase our diversity and cutting-edge design capabilities."
Blanc & Otus is a communications consultancy that delivers measurable business results for technology-driven companies. We help our clients create compelling marketplace conversations through informed, inspired communications strategies that drive the perceptions and behavior of our clients' key constituents. Blanc & Otus has a 25-year track record of generating superior, on-strategy results for its clients. Blanc & Otus has offices in San Francisco, Boston and Austin. For more information, call 415.856.5100, e-mail info@blancandotus.com or visit the Web site at www.blancandotus.com.
About Project6 Design, Inc.
Project6 Design is a San Francisco Bay Area (Berkeley, CA) based design firm which specializes in strategic branding, print design and Website design services. Project6 provides the framework companies need to tell their unique stories, attract customers, and keep them coming back. Clients include eBay, Technorati, Gap, University of California – San Francisco, Kashi Company and many others. For more information, call 510.540.8005, e-mail info@project6.com or visit the Web site at www.project6.com.
The IAVA is an assembly of leading professionals from various disciplines of the visual arts dedicated to embracing progress and the evolving nature of traditional and interactive media.
Read press release on Business Wire ©2021 Project6 Design, Inc.