Project6 Design Completes Web Design and Build for National Girls Institute
Project6 Design, an award-winning San Francisco Bay Area branding and web design company, proudly launches the website for the National Girls Institute (NGI), a non-profit organization whose mission is to advance understanding of girls' issues and improve program and system responses to girls in the juvenile justice system.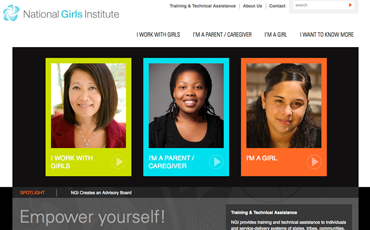 NGI is a federally-funded partnership between the National Council on Crime and Delinquency (NCCD) and the Office of Juvenile Justice and Delinquency Prevention (OJJDP). Project6 worked closely with both organizations on the user interface and design, ensuring a smooth process throughout. Additionally, Project6 is working with NCCD on the web design and build of several other inspiring websites, due to launch in upcoming months.
Working with Project6 was an absolute pleasure," says Dr. Lawanda Ravoira, Director of the National Girls Institute. "They took our vision and turned it into a clean and functional design. Their team was extremely professional, and worked with us to stay within our budget and short timeframe. We are very pleased with the website!"
The NGI website is built with WordPress, an open-source content management system (CMS). WordPress is one of the most popular content management systems in use on the Internet, and it allows the NGI Team to add, edit or delete web site content quickly and easily.