Gold and Silver! Five New Awards for Project6
San Francisco Bay Area graphic design agency, Project6 Design, has been awarded five 2015 Communicator awards.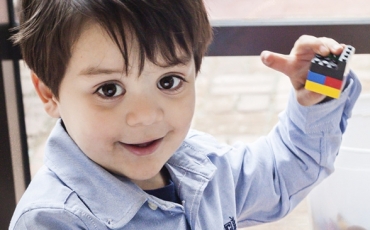 These awards were in four Website Categories: Construction, Charitable Organizations/Non-Profit, Consulting and School/University.

The Communicator Awards is the leading international awards program honoring creative excellence for communication professionals. Founded by communication professionals over a decade ago, The Communicator Awards is an annual competition honoring the best in advertising, corporate communications, public relations and identity work for print, video, interactive and audio. The 21st Annual Communicator Awards received over 6000 entries from across the US and around the world.
Nearing their centennial anniversary, Rosendin Electric has grown from a Santa Clara-based motor winding company that serviced their immediate agricultural community into one of the nation's largest private electrical contractors. Rosendin Electric's former site was nearly a decade old and failed to communicate their position as industry leaders implementing cutting-edge technology. Site administrators lacked the tools to highlight news or engage visitors with portfolio highlights of their more popular projects. The site offered little support or information for Rosendin's many subcontractors, leaving both industry partners and employees to struggle with an ineffective workflow. Their new website features a new portfolio section that highlights both current projects and their international reach while an extensive "About" section maintains a strong sense of their proud history and company culture. The site's architecture was overhauled to drive user engagement with streamlined navigation.To meet the client's needs for greener and more efficient operations, Project6 implemented an innovative subcontractor portal that provides a simple, centralized location for communication with industry partners. For a more efficient administrative experience, Project6 migrated Rosendin Electric to a Drupal content management system (CMS). The new Rosendin Electric website speaks to both the partners and communities they serve while supporting the brand's position as leaders in their industry.
The Belvedere Tiburon Library, located just north of San Francisco, has patrons in the cities of both Belvedere and Tiburon. The library also has its own foundation, The Belvedere Tiburon Library Foundation, to galvanize the community in support of library development. Project6 first worked with the library team to establish their new brand mark, color palette, and stationery system. The freshly designed logo is bright, clean and upbeat, appealing to a wide variety of viewers. After surveying many library websites, Project6 helped the library to organize their website information in an intuitive way—as well as a way that was easy for library admins to maintain. As part of the design process, Project6 also developed the branding and website of the Foundation. At the time of the project, the Foundation was also in the process of raising funds for new library growth, and needed a significant online presence.  The outcome was two "conjoined" websites, using the same design templates, palette, and content management system to make maintenance easy for admins, but a distinct and separate online presence for visitors, with two different urls, logos and architectures. Both websites offer a positive user experience that is warm, accessible, and intuitive.
The Lucile Packard Foundation for Children's Health is a nonprofit foundation that works to elevate the priority of children's well-being and improve the health of both children and expectant mothers. Project6 was engaged to create a fundraising site for Lucile Packard Children's Hospital Stanford that inspired visitors to engage deeply—to get involved, offer support, and donate funds. Project6 simplified and layered site messaging to help users quickly understand the Foundation's goals, read more, or take action. The navigation was restructured to simplify users' choices and help them make decisions faster. The new, responsive site both inspires donors and compels them to act. It conveys the credibility and prestige of the hospital, allows users to take action quickly and easily on desktop, tablet, and mobile platforms, and gives them a seamless experience across both Drupal and Convio. The clean new layout, upgraded CMS, and refined donation pages result in a positive user experience for donors and the broader community.
Trihydro Corporation is a leading provider of environmental engineering services. Based in Laramie, Wyoming, this organization has grown to tackle challenges on a worldwide scale, but their previous site didn't convey their position as innovative leaders in environmental engineering. Project6 embraced the challenge by selecting the Sitefinity CMS for its ability to leverage a robust amount of content and media across a responsive website. In restructuring the site architecture, the website now promotes equal attention to each of Trihydro's services and markets and giving any prospective clients a streamlined path to identify the sectors that interest them most. By using a new modern design, captivating images of real Trihydro employees in the field and intuitive navigation, the result is a unique user experience. Combined with custom imagery and a modern, open feel, the new Trihydro site reflects their position as a global firm without losing the sense of their commitment to clients or their company culture.
"Project6 simplified the enormous task of redesigning our website and marketing materials with creativity, responsiveness, and detailed project coordination. They turned a complex process into a well-oiled machine that gave us exactly what we were looking for: eye-grabbing design that embraces our brand, displays innovation, and serves as an effective tool for our business." ~Becca Marcott, Trihydro Corporation
Project6 Design is an award-winning San Francisco Bay Area graphic design firm working with high-tech, retail, education, and nonprofit organizations. Our strategic process helps clients express their true brand character, solve complex usability problems, and drive business results. Our design firm's services include branding, print collateral design, and web design and development. Client brands include eBay, Gap, Stanford, CA Technologies, Old Navy, The Siebel Foundation, and many others.