Winning Streak Continues: Project6 Design Wins Three More Awards
San Francisco Bay Area website design agency and development firm, Project6 Design, has received three Standard of Excellence awards in the 2014 WebAwards competition.
The WebAwards honor those who challenge the boundaries of design and set higher standards for internet marketing and website development. Sites are judged on seven criteria, including design, innovation, content, technology, interactivity, copywriting, and ease of use. Project6 Design is pleased to again receive acclaim for the quality of their work by the Web Marketing Association; accolades that support Project6's reputation as one of the best web design and branding firms in the San Francisco Bay Area.
The Gordon & Betty Moore Foundation was established by Intel founder Gordon Moore and wife Betty to bring international awareness to worthy causes, collaborate with problem solvers, and foster lasting change - powerful themes that their previous website failed to communicate. The original site was built to an 800 pixel browser width, and lacked the personality that would inspire visitors to action. Project6 overhauled the site by creating a homepage rich with imagery and insights. The new design welcomed visitors to explore a megamenu that made detailed navigation simple to use, while a Sitefinity content management system allowed the Moore Foundation complete control of their content. The result was a fully responsive site that illuminated people and empowered change by telling story of those seeking to solve greater problems.
Biscoff struggled with a site that fell flat. The packaged goods manufacturer was suffering from a web presence that acted more as the gateway to a separate ecommerce site than an environment where visitors could indulge in the brand's message. Project6 Design rebuilt a custom Drupal site that was flexible enough to allow Biscoff complete control over their content, while ensuring the new design was fully responsive on a desktop, tablet, or mobile device, so every visitor's experience remained consistent with the high quality promised by Biscoff's brand. The robust architecture of Biscoff's new site beckons visitors to explore sumptuous recipes, intuitive purchasing options, and an interactive map on which to share their thoughts about enjoying Biscoff's famous cookies and spreads. Tantalizing and content-rich, Biscoff's new site gives the brand's heritage the spotlight, while making seasonal changes a piece of cake.
DeLeon Realty is an elite real estate company whose previous site and messaging did not reflect their level of service, or depth of competency, about the real estate market. Project6 Design worked with DeLeon to rethink the website architecture, design, and content strategy. Their goal was to capture the unique approach, confidence, and spirit of excellence that is the heart and soul of the DeLeon brand. The new site leverages a Drupal content management system for an intuitive back-end experience, and uses the Twitter Bootstrap framework on their front end, to ensure a seamless, responsive experience across all devices. The new site is richly appealing and elicits all the feelings of luxury one would expect from a DeLeon property. As a final flourish to the new DeLeon online experience, Project6 employed the creative use of interactive maps which display geographically relevant listings and powerful filters for detailed property searches. The experience combines to reflect DeLeon's the caliber of the DeLeon experience and allows their dedication—and available properties—to shine.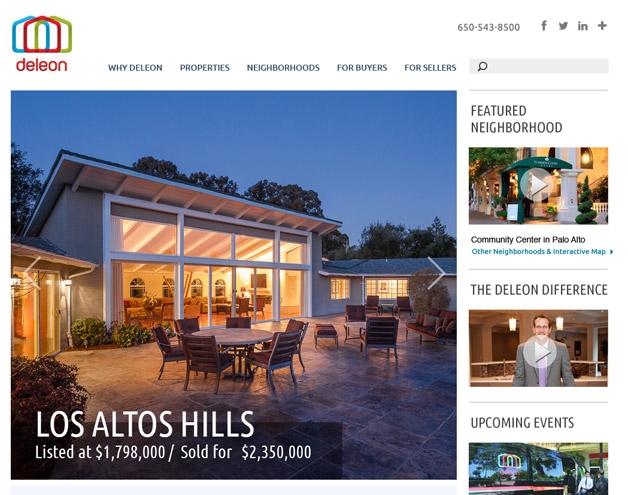 Project6 continues to be a contender in the WebAwards for their implementation of cutting-edge responsive design techniques and advanced development. All three websites were built to feature the latest responsive design methodologies, which are lauded for allowing a consistent user experience across all devices. Additionally, all three sites employ the power of Drupal's content management system—an innovative, open-source platform that allows clients to deftly organize, manage, and publish their content. Because it's built, used, and supported by an active and diverse community of people around the world, it's used by some of the biggest sites on the web.
The Web Marketing Association was founded to help define the standard of excellence for online marketing. Internationally known for their award programs, such as WebAward Competition for Website Development, Internet Advertising Competition and the MobileWebAwards, The Web Marketing Association has set a new standard of excellence for website development for over 17 years, and in 96 countries.