Project6 Wins Two Awards in the 2012 International Davey Awards
New York, NY - The winners of The 2012 Davey Awards have been announced by the International Academy of the Visual Arts.
Project6 design agency was recognized for two entries: Cogent Legal (Law and Legal Services), and National Girls Institute (Charitable Organization).

The Cogent Legal website features an easy-to-use navigation, a customized portfolio review section, which includes images and videos, and multiple ways to showcase relevant content like news and testimonials. The site also included a client login area for Cogent's clients to login and view secure documents related to trials. This website, as with most Project6 development projects, was built using the Drupal content management system (CMS), the world's most widely-supported, open-source CMS.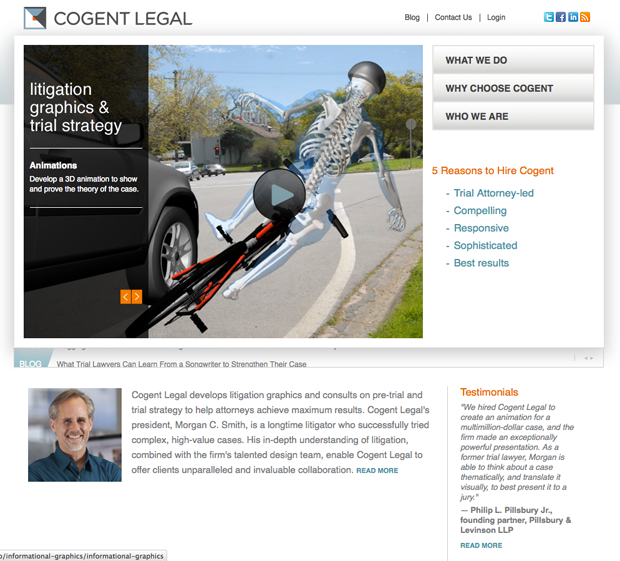 NGI is a federally-funded partnership between the National Council on Crime and Delinquency (NCCD) and the Office of Juvenile Justice and Delinquency Prevention (OJJDP). Project6 worked closely with both organizations on the user interface and design, ensuring a smooth process throughout. Additionally, Project6 is working with NCCD on the web design and build of several other inspiring websites, due to launch in upcoming months.
"Working with Project6 was an absolute pleasure," says Dr. Lawanda Ravoira, Director of the National Girls Institute. "They took our vision and turned it into a clean and functional design. Their team was extremely professional, and worked with us to stay within our budget and short timeframe. We are very pleased with the website!"
The NGI website is built with WordPress, an open-source content management system (CMS). WordPress is one of the most popular content management systems in use on the Internet, and it allows the NGI Team to add, edit or delete web site content quickly and easily.