Project6 Design Recognized for Award-Winning Responsive Website Design and Development
Berkeley, CA – San Francisco Bay Area graphic firm Project6 Design earned recognition for two websites in the 2013 W3 Award competition: the Biscoff and Nok Nok Labs websites each garnered a silver award for outstanding website design.
In its seventh year the W3 Awards received over 4,000 entries from ad agencies, public relations firms, interactive agencies, in-house creative professionals, Web designers, graphic designers and Web enthusiasts. With over 12 years of design and development expertise, Project6 design agency has a proven record as one of the best web design companies in the San Francisco Bay Area.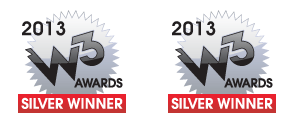 Biscoff cookies have been made in Europe using the same high quality recipe since 1932—and now Americans are beginning to discover this delicious, crunchy treat. The robust architecture of the new website enables visitors to explore product offerings, link to product purchase more intuitively, and search and filter rich content like recipes and party ideas. In addition, Biscoff's enthusiastic fans can pinpoint the place they discovered Biscoff on an interactive map and share tips on where and when to enjoy the cookie. Sumptuous photography conveys the Biscoff story, and supporting feature areas make it easy for Biscoff to highlight their product and seasonal interests as needed.
Nok Nok Labs, is a B2B security startup in Palo Alto that was looking to come out of stealth mode. Targeting a conference as their grand unveiling, they had just a few months to create their website and establish their presence. Project6 Design created a simple information architecture to enable site visitors to learn about their revolutionary vision quickly. GoTo Webinar, Jobvite, YouTube Video Channel, and the Marketo CRM were integrated into the website as part of Nok Nok Labs' drive to attract top talent and captures leads.
Both websites were designed and built using the latest award-winning Responsive Web Design (RWD) methodologies—so images are scaled and navigation is intuitive on all devices, from large desktop monitors to the smallest phones. Both are built using Drupal content management system (CMS), an open source content management platform powering millions of websites and applications. Drupal is built, used, and supported by an active and diverse community of people around the world. It is a cutting-edge platform that supports the latest technologies that the Web has to offer, and is used by some of the biggest sites on the Web, like The Economist, Examiner.com and The White House. The Drupal project's principles encourage modularity, standards, collaboration, ease-of-use, and more.