Project6 Design Launches Responsive Website Design and Development for San Jose-based Enterprise B2B Company
Project6 Design, a San Francisco Bay Area web design and development firm, launched a responsive website and Drupal CMS just in time for the RiseSmart's debut of its RiseSmart Compass product at the HR Technology Conference and Exposition in Las Vegas.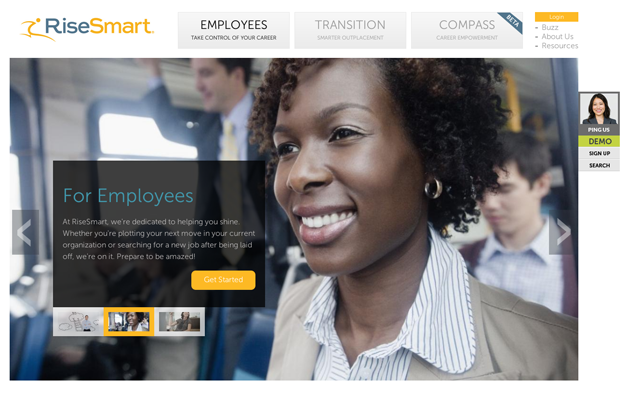 RiseSmart helps people find new jobs quickly and enables leading companies to reduce costs and protect their brands. Its cloud-based tools empower workers to explore and define their own career development and fulfillment as well as enable high-performing organizations to take care of their people at every stage of the employee life cycle.
The redesigned site features main navigation that opens to a complete site menu for intuitive access to RiseSmart's range of products and services. The design also provides for navigation to remain at the top of the browser window while users scroll tall parallax pages. Video and online chat offer an interactive user experience, and the site integrates seamlessly with Marketo to track site user information.
The launch coincided with a beta release of RiseSmart Compass, a cloud-based tool that gives employees everything they need to own their careers and provides companies with an invaluable tool to assess their strengths and plan for the future.
The RiseSmart website was designed and built using the latest award-winning Responsive Web Design (RWD) methodologies—so images are scaled and navigation is intuitive on all devices, from large desktop monitors to the smallest phones. It is built using the Drupal content management system (CMS), an open source content management platform powering millions of websites and applications. Drupal is built, used, and supported by an active and diverse community of people around the world. It is a cutting-edge platform that supports the latest technologies that the Web has to offer, and is used by some of the biggest sites on the Web, like The Economist, Examiner.com and The White House. The Drupal project's principles encourage modularity, standards, collaboration, ease-of-use, and more.